Well, even the best laid plans . . .
I don't know quite what happened with Ged's week off. I know one day I spent being Trinny and Tranny in Port Macquarie, upgrading and updating his wardrobe (which has improved his sartorial elegance but has done sweet FA for the house!) And we ordered lots of things to help the house on its way and I know that the new washing machine is now installed in the laundry and today the taps have been relocated by the plumber and the gorgeous tallowood work surfaces have been 'dressed' (Trinny and Tranny all round!) And . . . the falling down awning to the side of the garage has been removed (finally!) and George has been behind the shed with the tractor and made a lovely space for my one day chook run. And the orange tree has had a very dramatic haircut so Tinkerbell and Baby have been having a feast . . . but there's no one thing finished in the house for me to tick the box and say 'done'.
Either someone up there is trying to teach me patience, or sorely trying my patience!!
George pushed all the pebbles back up to the bridge on Sunday so I was at last free to leave. When I did finally go off the property it was a strange experience – liberating, exhilarating and kind of scary! Fascinating to see the havoc the water had wrought with all the crossings and bridges and see just how many people, like me, were river or creek bound for the duration. The best thing is that the solar system held up through all that drear, grey week of rain with not even a murmur which was brilliant, even if the sun wasn't!
Having escaped the truly horrible (and sometimes fatal) flu that had been doing the rounds and that Ged was bed-bound for a week with, I was headachey and nauseous all week but I put it down to sunstroke, PMT or dehydration and soldiered on until mid-week when I spent the night wedded to the WC as my father so eloquently puts it 's****ing through the eye of a needle!' I had a raging temperature and spent the whole of the following day (which was boiling hot) shivering under the doona while all sorts of workmen hammered and tractored and sawed outside. Or maybe that was just what it felt like in my head . . . .
Actually I was dragged out of bed by George early in the day to go over to his place and meet the Fire Brigade to get my Fire Permit now that the ban has been brought in early. I can't say I was looking my best for such an occasion, and luckily while I looked like death, they were no pin-up boys either, so I didn't miss a perfect opportunity there . . .
I was all better by the next day and had to go forth and forage for food in the shops to fill the void and found some gorgeous local natural yoghurt – there are some really amazing locally grown and made natural products up here which inspire me to cook for my workers. I have also just discovered Kipfler (??) little sort of long potato things – divine. Highly recommend my sweet potato curry . . . .!
On Saturday we headed down to the Central Coast to go to my old hairdresser's 40th which was a big Yugoslav family affair in truly the naffest house you could even begin to imagine – huge mock tudor baronial/aussie macmansion. It was 'gangsters and molls' so I wore a great beaded dress which Mel sent over (and will unlikely be getting back!) and slicked my hair back with kiss curls on my cheeks. It was all a mad rush, especially since I was determined to trim the horse's feet before we left. So we raced into Port to get shoes for my outfit, socks for Ged's, present for the birthday boy etc., and then I was sewing buttons and headbands in the car on the way! But it was fun to see them and some people I hadn't seen for ten years and to have a good boogie. On Sunday we went to meet some of his oldest friends and had a look at where he had grown up – lovely acreage at Terrigal where his big family roamed the countryside on horseback and listened to the bell birds in the bush. It was nice to get out on the water in the speed boat but I wasn't game to ski – too bloody cold for me!!
Then home and the warm glow of a good day's burning – George has been a busy boy and done a great job. and he tells me that his daughter gave him a huge amount of home cooked food when she saw him at Church on Saturday – so she was obviously guilt ridden into action after he told her I was cooking for him – great! I can rest in peace then . . .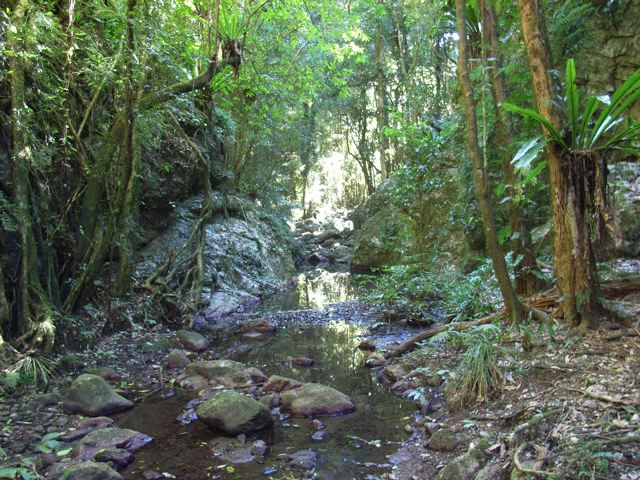 THE MAGICAL ANGLE CREEK