It's a good thing that I had made the news public because my 'best boy' was doing some broadcasting of his own!  Angus Gripper made my impending visit to the Valley and the happy news of my engagement his 'news' at school this week.  So while I was intending to just slip in and out of the Valley quietly and without fanfare, just revelling in the company of my old Scotts Road cohorts, Angus had other ideas – bless him!
Actually, my other 'best boy' did a damn fine job of alerting the Valley to my presence.  Phoenix was so excited after his long, hot (the air conditioning wasn't working) car journey from Tom's Creek to Kangaroo Valley (7 hours door to door) that he went on a grand tour of all his old haunts which meant that both the home phone and the Gripper's were running hot with concerned residents who thought that Phee had undertaken his own 'Incredible Journey' from the wilds of Wauchope.  Jane and Ged were able to assure everyone that he was where he was meant to be and I got to catch up with some very special friends which was lovely.
When Wauchope and its surrounds has finally started feeling familiar and like 'home', it was disconcerting to discover that as soon as I got off the Hume Highway and into Mittagong I felt like I was coming home.  I guess the Valley will always own a part of my heart.  I was late, as usual, so I got to the Gripper's just before 8pm and it was bliss to see my special children and Jane again.  Phee was in seventh heaven.  We had a good catch up, keeping Jane up late and then a very comfortable night on the sofa bed in the spare room.  As soon as I was awake on Saturday morning, Angus started making me soy milk pancakes which were delicious.  Then Neil arrived from his German adventures, and it was great to have a lazy morning with them all.
Then we all set off on 'the welly boot walk', risking life and limb on Upper River Road as the long weekend hoons roared around the hairpin bends.  Jemima and Jane turned back early as Jemima had a Birthday Party to go to, and Audrey, Angus and myself decided to show Neil the big swimming pool and waterfall up river from the white house crossing.  It didn't occur to any of us that since we had both their dogs with us that there would be a problem.  I must say I didn't know that neither of them were able to pass water without throwing themselves in it.  And so they launched themselves off a rock precipice into the pool below.  And then couldn't scrabble up the sheer cliff walls.  Lordy, what a debacle!!  I hauled Bessie up the waterfall over and over again (every time I got her out, she leapt back in to show Addy the way out) but despite all our exhortations to Addy to come to me she stayed resolutely paddling around and around.  Audrey dragged her up the cliff face once, but she dived straight back in so eventually Neil clambered gingerly along the rock ledge to the pebble beach on the other side of the pool and got both dogs out.  Whew!
Angus was brave and got straight in (and then admitted quietly to me that it was FREEZING!!) while Audle dawdled as usual and finally got wet when Neil and the dogs were back up in the paddock and Angus not far behind and I was rapidly losing patience!  Neil became the pack horse for all the kids' assorted paraphernalia of wellies, backpacks and hats on the way home and I lost a lot of my recent cluckiness!!
Once home, clean and dry, I went over to see Matt and Lorraine and had a lovely time sharing my news with them. I was so lucky to have such amazing neighbours in Kangaroo Valley and while I miss that close sense of community, it is good to know that the friendships will survive the distance.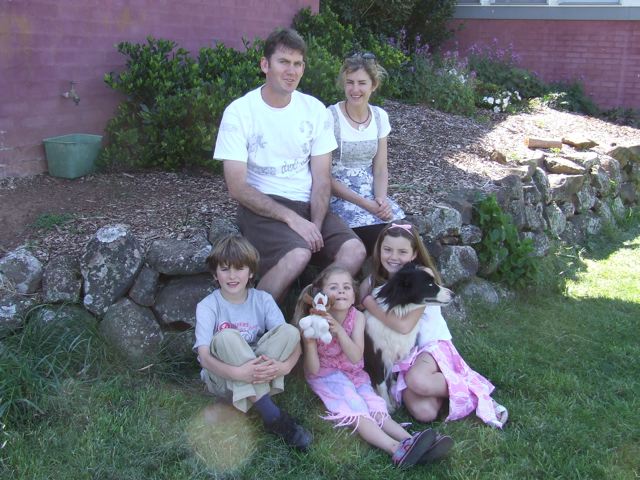 Neil, Jane, Angus, Jemima, Addy and Audrey Gripper – very special friends, one and all.