After ten days we were ready to come home.  There's only so much sun, sea, sand and sex you can take after all!  But at least we know we are capable of conversations other than those about the renovation of the farm!  And so goodbye to Qamea, and over the sea to the Taveuni mainland (sung on our way by the staff), back in the mini-bus to the ramshackle tin airport and into, this time, a De Havilland Twin Otter (I thought those only existed on the pages of my Nevil Shute books) which Mummy would no more clamber aboard than our flying fox!
And in that noisy little drum on wings we had our last loving look at the islands, reefs, coral cays and aqua waters of Fiji.  We had a few hours to kill at Nadi so thought we'd better go and have a look at the place, for future reference.  What a dive!  A dirty, ramshackle, broken down melee of a place where tourism was the only game in town and the hustlers were everywhere – on a mission to fleece you.  Yuk and double yuk!  We bought the Grippers a wooden kava-style bowl and me a little salt dish.  Ged sat in style, as the chief, cross legged on the floor, drinking countless cups of kava (he is brave!) while I browsed the shelves.  I guess at least we picked a friendly way to get fleeced!
Back to Nadi Airport for sustenance both physical (food) and spiritual (book) to sustain us on the school holidays sardine flight back to Sydney.  Again, it felt like the longest of long hauls.  And with every screaming baby I turned to Ged and said 'are you sure we want one of those?'
However, I hit upon a winning book.  One of those annual rareties that resonates with your soul and slightly rocks your world.  and for me, the ultimate accolade – I WISH I had written that.  Go buy this book.  It's for anyone whose world ever fell apart and learned from the experience – 'Eat, Pray, Love' by American Journalist Elizabeth Gilbert.  Fabulous, fabulous book.  Ged read it too and laughed and cried as much as I did so not just chick lit but for the discerning, intelligent, spiritual male soul too.
We were late into Sydney and rang the Grippers to let them know and then beetled down the Highway to the Valley where we were (as always) made so welcome.  Saturday we were slow to get going, and just revelling in the kid chaos until we had to get a wriggle on.  Over the mountain to Nowra to stock up on roo for our furry friend and for Ged to meet Mike and Kate who weren't able to come to the wedding (poor little Keira broke her collar bone) and to purchase some proper hens for Jane and Co because their current daily egg ration is pathetic!  Then to the Canine Health Farm to be reunited with my little angel, into Berry for basic supplies and back to the Valley for food and then Ged and I went for a nose around my old place which has been radically revamped by the new owner.  The Grippers had been at Nowra pool all day for Angus's birthday and so came home en masse on a sugar high and I made a big bean stew.  Lorraine came over for drinks and chatted while we ate.  She is our research queen and guru and since we are all on the point of purchasing new cars we listened carefully to her critique of all our choices.  Matt had to study for another exam (honestly, being a pilot is one stress after another!) so had to stay home, cooped up with the books, and we had another late night catching up with our friends.
By the time I came back from the loo in the morning, Jemima was in bed with Ged and as I snuggled back in for a snooze, Jane asked permission to go for a bike ride and we were left in full charge of the brood.  That meant pancakes and so I had to get up to supervise and flip.  I was soon swearing 'one is quite enough!' as I refereed the sunday morning squabbles and have to admit to significant relief when Jane returned!  We had a completely lazy day and then, as the Grips were supping with the Stills (their neighbours) we decided to push off and hit the road and get home in the early hours so we could have a full day of getting organised and getting back to work on Monday.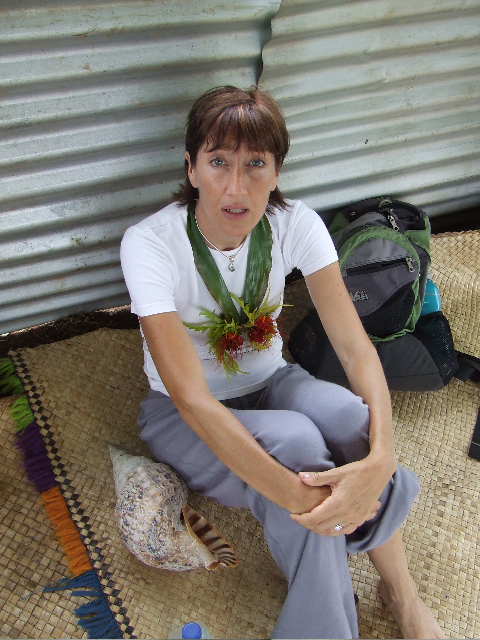 Look at that conch shell!  Guarding my prize at the village tour . . .