Back to the real world!
Two brown, relaxed, little berries and one super-stressed spaniel were very relieved to be home.  And what a lovely home thanks to all your efforts!
Phee didn't even begin to relax until the suitcases were safely back in the garage, the clothes washed, dried and folded away, and normal routine established and adhered to.  I spent two whole days washing all the gorgeous gifts from our David Jones List and finding homes for them in our new-look, lovely, kitchen and now somewhat overcrowded linen cupboard (Ged has to put in another shelf so I can go back to my colour coded piles).  And our first weekend was spent pulling all the boxes out of the garage and unpacking and polishing up all my little nick nacks, photo frames etc.  All the bookcases needed bleaching because they had been growing mould in the garage for the past 8 months.  The books were either mouldy or had become fodder for rodents.  Of course, they only liked gnawing on the antiques!  The rugs came in and have homes on the floor, the pictures have been hung and the kitchen accoutrements put into use  . . . and now we have a home!  Bliss!
We had gorgeous weather for that first week back – perfect for washing all the long-packed linen and revelling in home.  Lovely runs, river-wading, filling the tanks with crystal clear river water, etc.  The only blight was the daily grind up Tom's Creek Road to the office at Comboyne – the sooner we get satellite broadband, the better!  And the fact that we were flat broke, so we had to pull our heads in, put our noses to the grindstone and hit the ground running to get the pennies rolling back into the coffers.  We also had long, long discussions about selling Ged's place and the lowest price he would bear so we can go ahead and sell to the local farmer who wants it.  We went back to him with our counter offer to his very low one and were very disappointed when he said that was all the bank would lend him – oh well, back to the drawing board!
We had George over for supper to hear all his news, feed him, and tell him there's no more work here for a month or two until we are flush again.  And we have been catching up with friends, rellies and neighbours on the phone, skype and email so you all know we are home safe and sound.
I have been ploughing through the photos, trying to choose the best of the best, and rounding up CD's from camera-wielding friends so we can get some prints done and put together some cd's and an album for interested parties.  And starting on my thank you letters . . . Big jobs!
But it's so good to be home . . . to have a home  . . . to live here . . . thank you!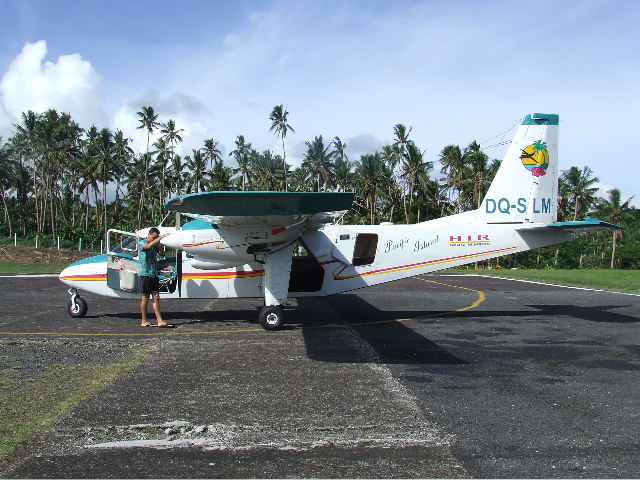 Pilot and air travel, Fiji style!