Just when things were getting back to normal, Ged went up the road to look at some wiring and came back with a new member of the Love family!
She is young, calm, easy going and cuddly and to ease her into Phoenix's existence, we are only having her during the day at the office so we can gauge his reactions and tolerance levels.  He hasn't been either excited by her or antagonistic but since his stress levels are still pretty high after the comings and goings around the wedding and the trauma of 12 days in doggy prison, best to go slow and tread carefully.
I wasn't particularly enamoured of her at first, although Ged seems to have fallen very hard.  But she's growing on me, and wheedling her way into my affections, so I know resistance is futile!
But let's face it, I loved Tom so much and while I have desperately wanted another cat, I am loathe to let anyone take his place in my affections.  I feel disloyal to his memory if I fall for this little Tiger.  But a house always feels so much more like a home when there's a cat waiting there for you.
She hasn't taken long to make friends of us all and sure enough she came home before the weekend . . . she's pretty content with her new-found family and warm, cosy home.
The deluge has begun again.  Everyone keeps commenting that March was, indeed, a miracle!  We lay the credit at 'the power of positive thinking' – we were determined that it wouldn't rain in March, we kept saying so, we decided to believe so, and our thought shaped our reality.  We also said we didn't care what it did in April . . . now that was foolish!  My sunny resolve and relaxed mindset is giving way to Eeyore-like gloom as we face day after day after relentless day of torrential rain.
Of course, the other problem is that I haven't got anything to WEAR!  I grew out of jeans and their ilk weeks ago, and my elasticated waisted summer pants are way too cold for the Comboyne climate so I am in mini-skirts, tights and boots (they must be the mini skirts from my fat days!) and I can't see me squeezing into those for much more than a month!  I have taken to riffling through my wardrobe every morning and trying to put together creative, comfortable clothing solutions that don't make me look like a fat frump!  I have been fashioning fashion from things that haven't seen the light of day for 15 years!
It was much easier in Fiji where a sarong or sulu hid all lumps, bumps and burgeoning belly!  Oh well, as soon as we have made some moolah again I guess I can go shopping!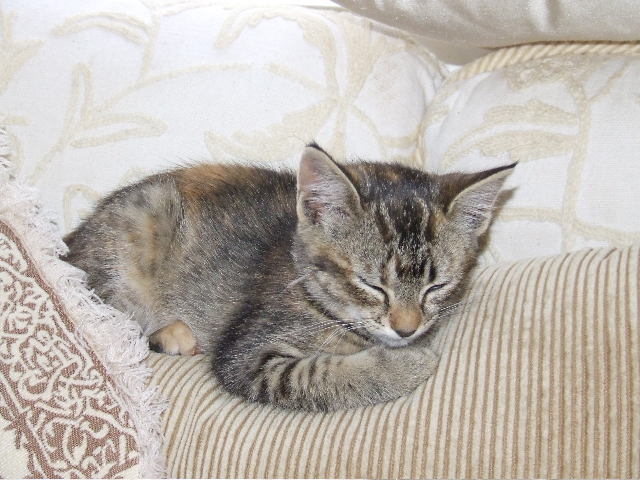 Mischa, making herself very much at home . . . .