The boys are back in town!  Scottie bought a mate up with him for a couple of days this week as Gary couldn't make it and Bill the painter has been here stripping the external windows right back and priming etc.  So Avalon is a hive of activity and the Queen Bee is happy!!
Talking of bees, we have ordered a hive for the Spring from a local Bee Farm as we have both always wanted to have our own bees and honey.  Have also ordered a 'Starting with Bees' book from our friends at River Cottage, and have asked the local apiarists who are setting us up to teach us everything they know – should be fun!
We are ever more like the Ark – two crazy cows, two hefty horses, two delinquent ducks, two house animals (Phee and Mischa) and ok, ok, FIVE hens.  But there's not much you can do with only two eggs a day.  The ducks really have been a special needs case since the drowning of their two brethren (they had climbed into the chook's water bowl and then drowned in too much water when they were little).  They spent weeks and weeks refusing to come out of their little shed and we had to tempt them into water with ever bigger troughs equipped with standing stones and log and plank ramps etc, and when we threw them in the river they ran back home as fast as their little waddling legs could carry them!
We were slightly despairing that they might every become normal and then the other night we had a lot of rain and decided to take the cars out to be on the safe side and Ged wheeled me across on the flying fox first (and let me tell you, you know you're very pregnant when manouevring yourself in THAT confined space!).  I had the torch and played the beam out over the river to guage the rising tide and what did I see but two white ducks paddling around in the pitch black . . . I told you they were special!!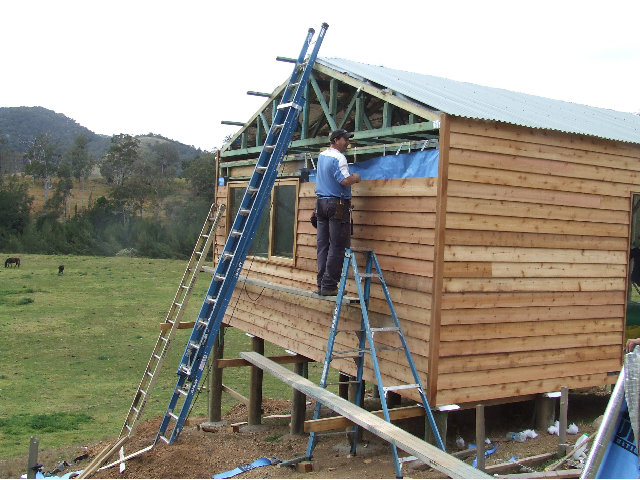 Scottie makes the missus happy!